How to enroll iOS device to Endpoint Manager
This page explains how to add iOS devices to Endpoint Manager. Once added, you can deploy profiles to manage device security, network access rights, browser restrictions and more.
Note 1 – You need to first add users (device owners) before you can enroll their devices. Please see one of the following tutorials if you have not yet added users:

Note 2 – You also need to install an Apple Push Notification (APN) certificate on your Endpoint Manager instance. This certificate authorizes Endpoint Manager to communicate with iOS devices.


Click here if you need help to install an APN certificate.


Lastly, make sure all target devices are connected to the internet and have enough space to install the Endpoint Manager app.
Supported Versions:
iOS 7.x, 8.x, 9.x, 10.x, 11.x, 12.x
Enroll iOS Devices
Login to ITarian
Click 'Applications' > 'Endpoint Manager'
Click 'Users' > 'User List' on the left
Select all users for whom you want to add devices then click the 'Enroll Device' button:

This opens the 'Enroll Devices' dialog. The device owners box is pre-populated with the users you selected previously.

To add more users, just start typing their name in the box.
Click 'Email Enrollment Instructions' to send each user a mail which tells them how to setup their device: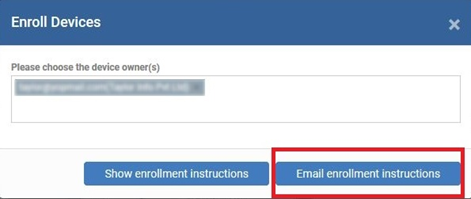 Users should open the mail on the target device itself and click the link at the bottom, as shown: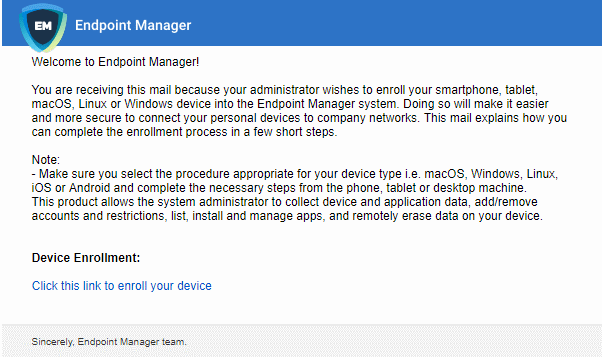 The link opens the device enrollment page.
Users should scroll to the 'For Apple Devices' section then click the first link
This will install the Endpoint Manager authentication certificate and profile: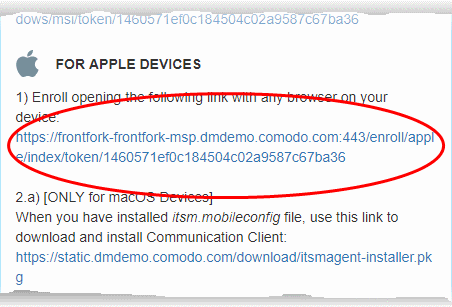 After the profile has been installed, the user next has to install the Endpoint Manager app: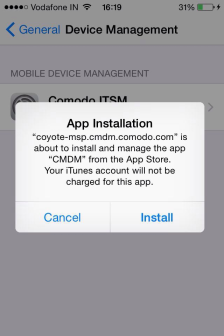 Click 'Install'. The app is downloaded from the iTunes store. End-users will need to login with their Apple ID to complete the installation.
After installation, users should tap the green 'Run After Install' icon on the home screen to complete registration: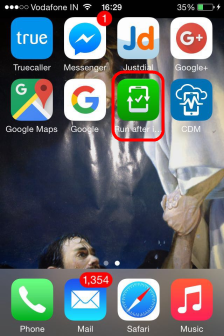 After enrollment is complete, you should see the device in 'Devices' > 'Device List':