The 'Threat History' area shows all malicious events found on managed devices over time.

The list shows items that have been removed from devices and those which are still present.

The list is useful for auditing, troubleshooting and analyzing customer networks.

You can filter the list by various criteria, export the list to .csv, and clear history items you no longer require.
View and manage threat history
Login to ITARIAN

Click 'Applications' > 'Endpoint Manager'

Click 'Security Sub-systems' > 'Antivirus'

Click the 'Threat History' tab:

Click a company name in the middle strip to view malware found on specific company devices
Or
Select 'Show All' to view malware found on all enrolled devices
Sort, Search and Filter Options
Click any column header to sort items in ascending/descending order of the entries in that column.

Click the funnel icon on the right to filter items by various criteria. You can filter by OS, device name, application name, package name/file path, signature, status and first/last detection date: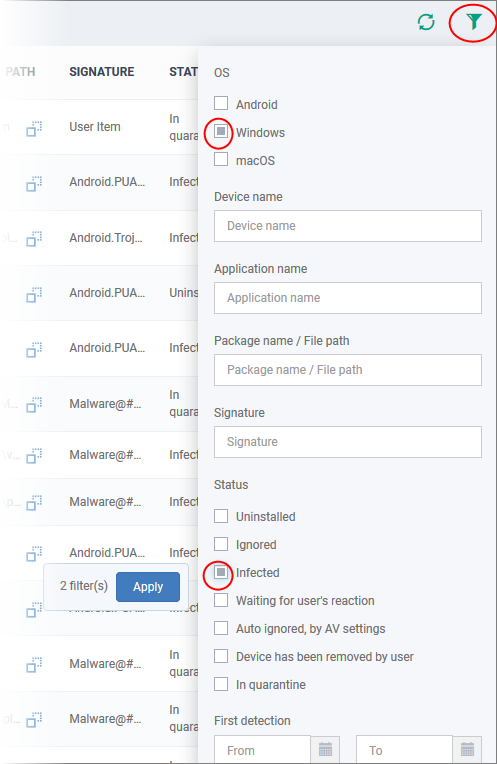 To view all items again, clear any filters and search criteria and click 'Apply'.
Remove unwanted entries
Deleting file history will only remove the log entry. The file will not be removed from the device or from any other interfaces in which it is listed (for example, the quarantine list).
Select the events you want to remove then click 'Clean History for File(s)' at the top: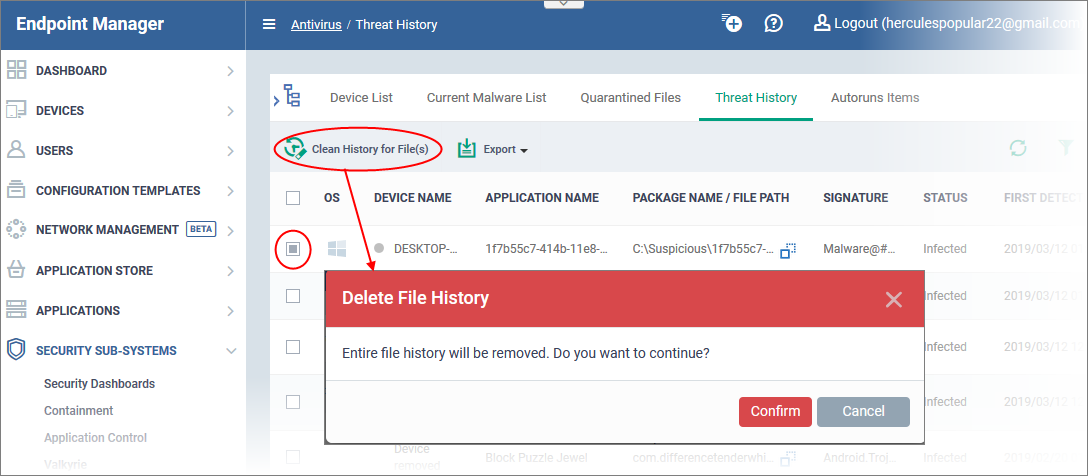 Click 'Confirm' to remove the entries from the list
Export threat history as a CSV file
Click 'Security Sub-Systems' > 'Antivirus' > 'Threat History' tab

Click the funnel icon to filter which records are included in the report.

Click the 'Export' button and choose 'Export to CSV':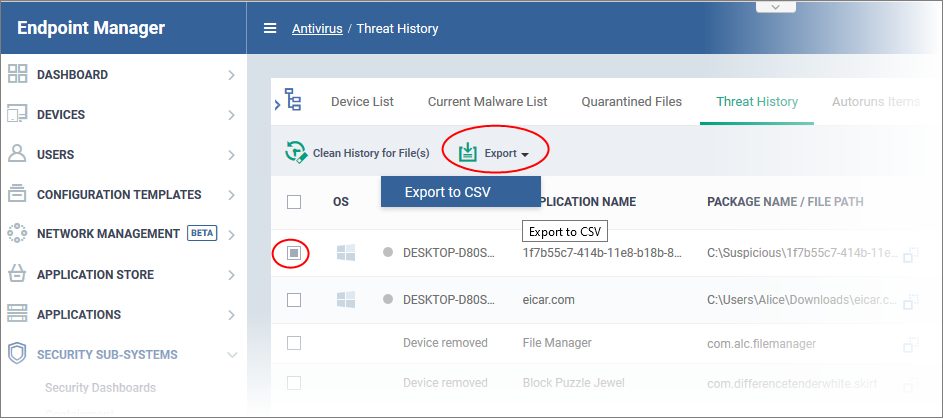 Click 'Dashboard' > 'Reports' to view the report.