Apple Push Notification (APN) certificate is necessary to send push notifications to iOS users.It is used to establish communication between Endpoint manager portal and iOS devices. For Certificate, installation follows the below steps.
Step [1]: Go to Settings > Portal Set-Up.
Open "APNs Certificate".
Then Click "Create APNs Certificate" to proceed.
Enter the details in "Generation of APNs Certificate" and Click "Create".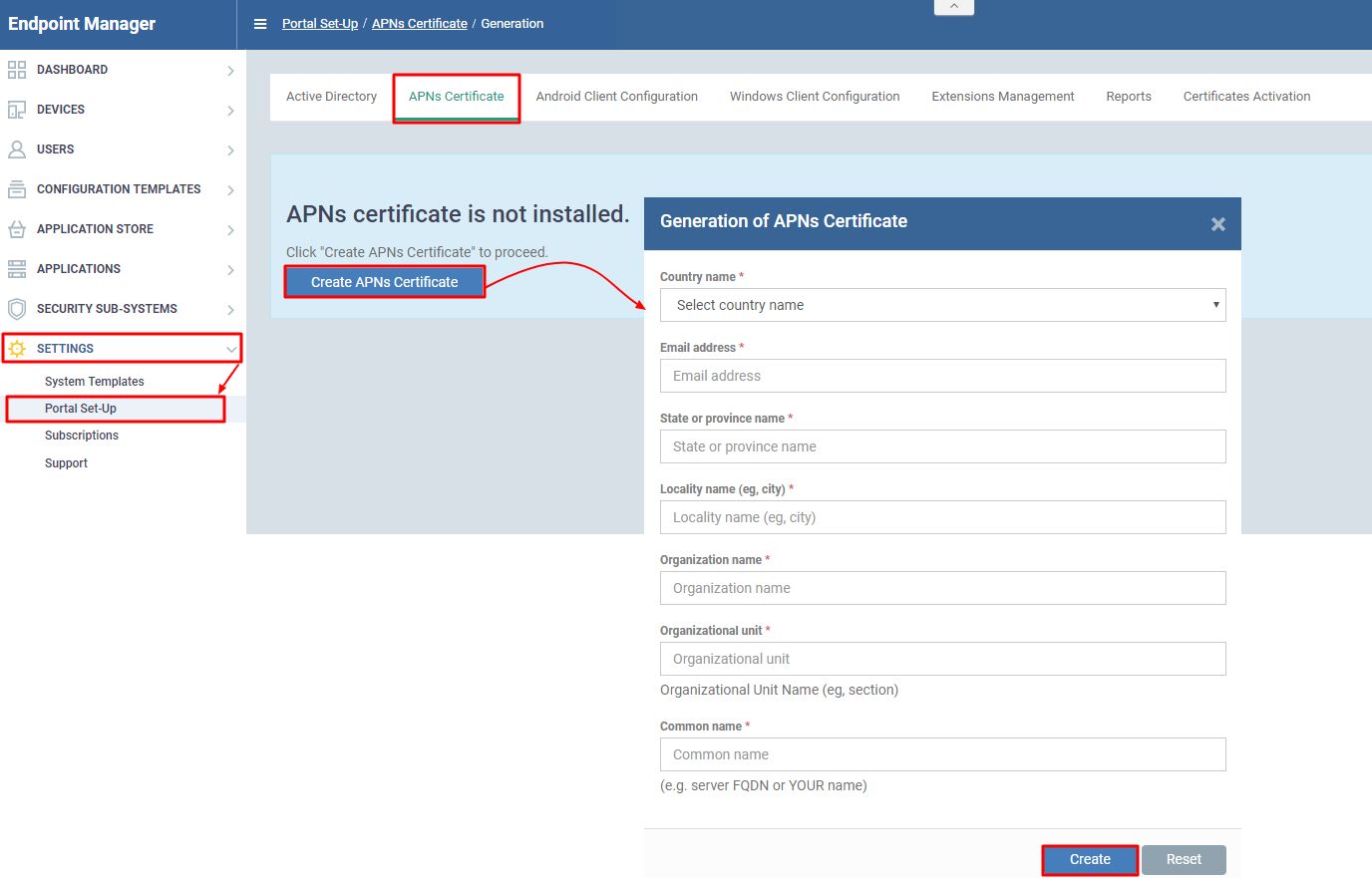 Step [2]: Download "Comodo_Apple_CSR.csr" by clicking " The Apple PLIST Signed by Comodo" from Upload APNs Certificate.

Sign in to Apple Push Certification
After downloading "Comodo_Apple_CSR.csr" file click "Apple Push Certificate Portal"
Sign in with Apple ID and Password.
if do not have an Apple ID account then please create by https://appleid.apple.com.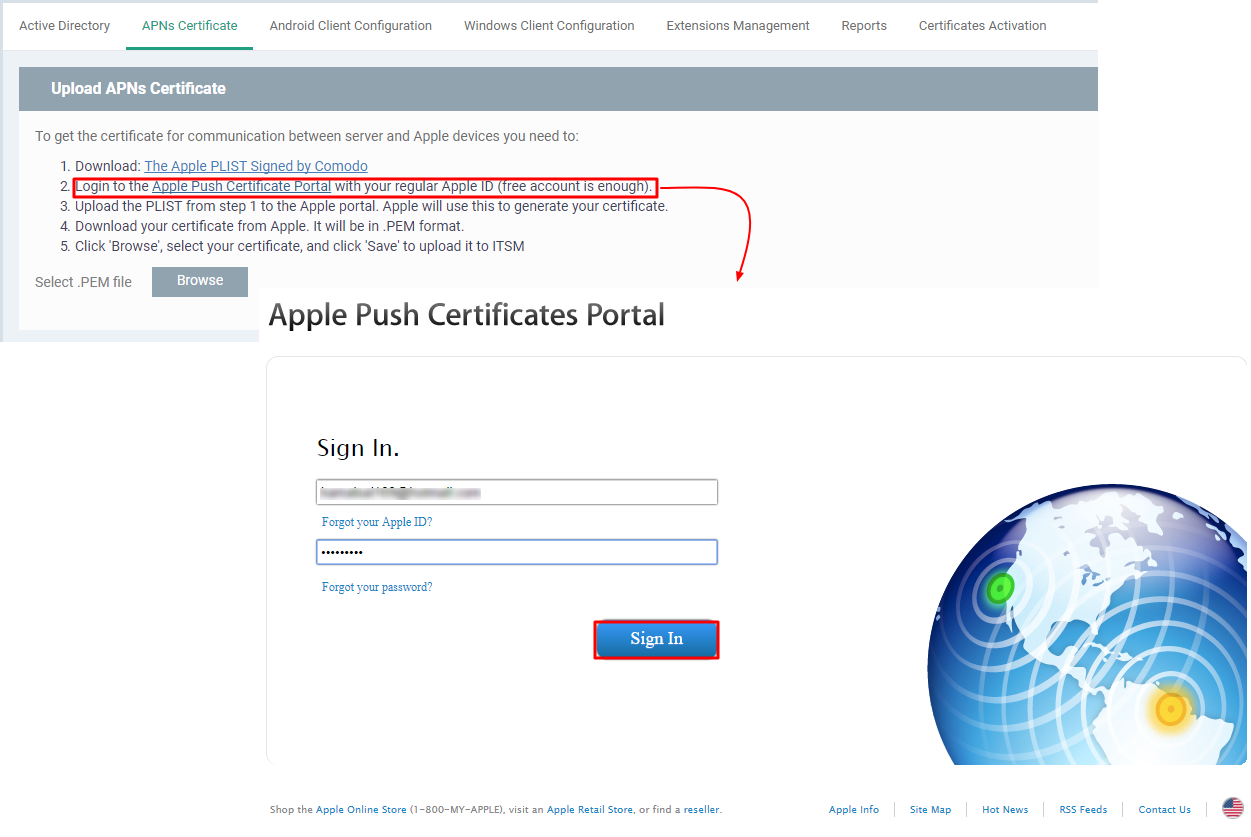 To create an APN Certificate
Click "Create a certificate"
Need to agree Apple's EULA conditions and Click "Accept".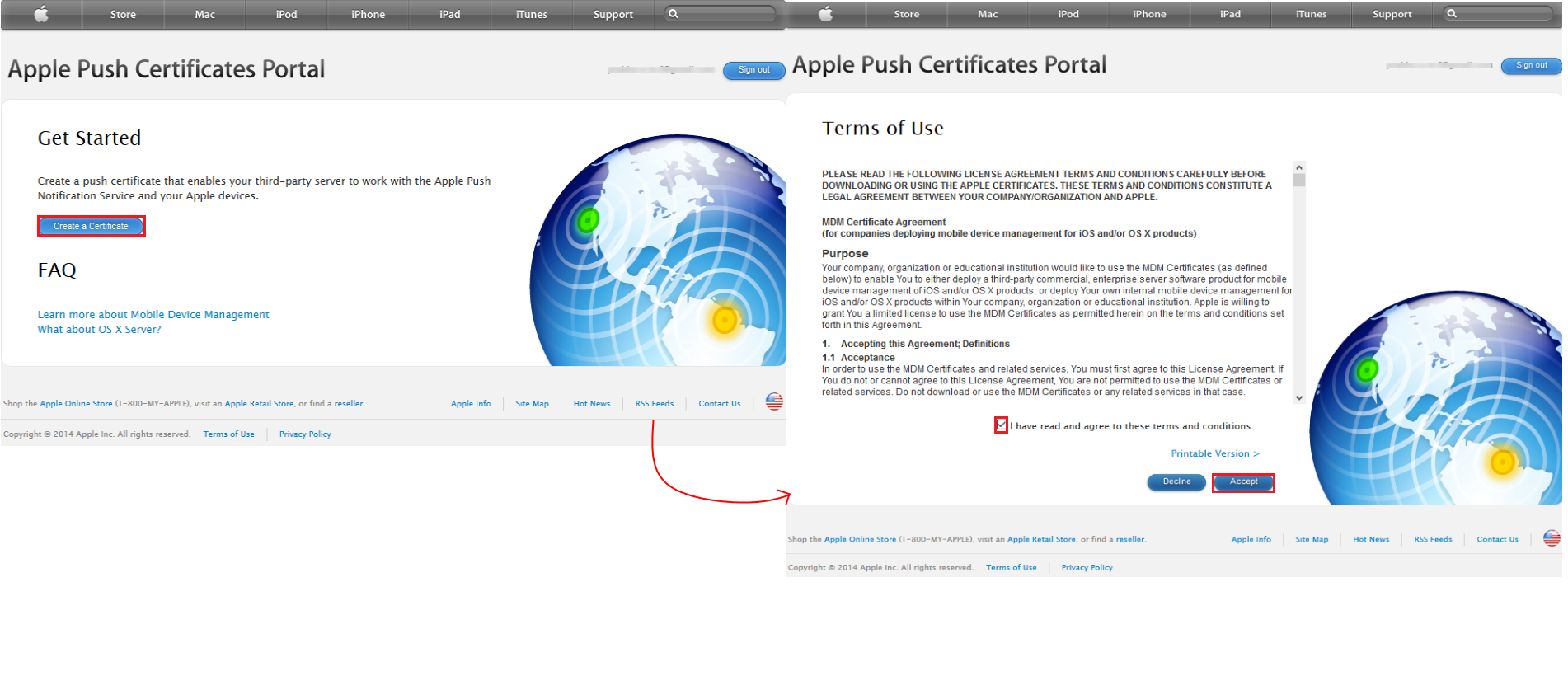 Step [3]: To Upload a "Comodo_Apple_CSR.csr" file
Click "Choose File" and Navigate to the file location and Click "Upload".
Next, download the certificate from the Confirmation Page by clicking "Download".

Step [4]: Upload Certificate to ITSM
Return to Endpoint manager Portal and Open APNs Certificate.
Click "Browse" and Locate the file.
Then click "save" Upload the certificate.

Step [5]: APNs Certificate Details
After Uploaded the certificate it will open the APNs Certificate details.
Now we can enroll iOS devices and Mac OS devices with Endpoint manager portal.
To Renew the APN Certificate after the validity. click "Renew" from APNs Certificate.
To Delete the APN Certificate. Click "Delete" from APNs Certificate.
Note:
Expiry warnings for Apple Push Notification (APN) certificates are enabled in ITSM. This feature helps the users to notify the expiry warning i.e, For example, one month, two weeks, one week, three days, two days and one day too.