Click 'Admin Panel' > 'Settings' > 'Alerts & Notices'
Alert emails can be sent to users and staff after various events occur. Example events include when a new ticket is created when a ticket is overdue, and when a new internal note is added.



Service Desk uses a system of 'template sets' to define the content of these alerts. Click 'Admin Panel' > 'Emails' > 'Templates' to manage your email templates.


Each set includes templates for a wide variety of alerts. Simply click the template name to edit its contents.




Templates can include dynamic variables like 'ticket number', 'assigned staff'. Click the 'Supported variables' link at the top-right of the editor to view the variables you can use.




See this wiki for help to create email template sets.


This article explains how to enable alerts for different events and select recipients.
Configure alerts and notices
Log into ITarian




Click 'Applications' > 'Service Desk'




Open the admin panel (see the last link on the left)




Click 'Settings' > 'Alerts & Notices'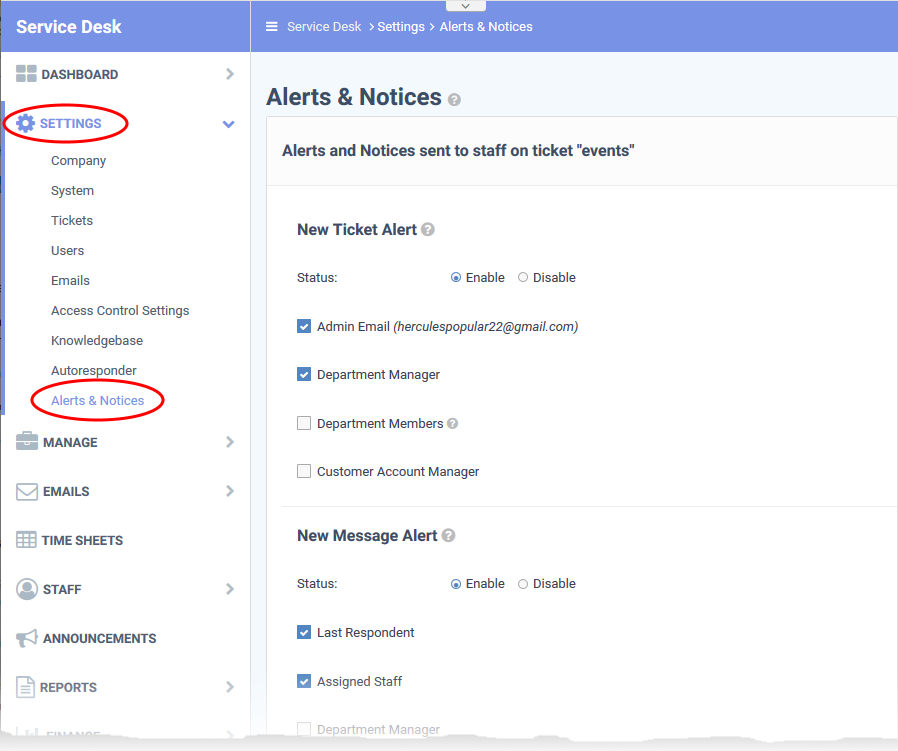 Use the 'Enable' / 'Disable' options in 'Status' to activate or deactivate an alert




Use the checkboxes to select the recipients of the alert
You can enable/disable alerts emails and select recipients for the following events:
Further reading: