ITarian Remote Access is a peer-to-peer communication tool that uses the secure RTP protocol to remotely connect to managed endpoints. The tool uses standard technologies and protocols so no additional software or hardware is necessary.

The product is free of charge and can be downloaded from https://remoteaccess.itarian.com/

ITarian needs to be installed on both the admin and target computers to effect a connection.
Connect to remote devices
Download and install Itarian Remote Access if you haven't done so already
Make sure your client also installs ITarian on their computer.

After installation, ITarian automatically generates an ID number and password
These items are shown on the ITarian home screen.
Get your client to send you these details. You will need them to connect:
Next, open ITarian on your computer then click 'Start Connection'
Enter your client's ID and password then click connect:
Your client will receive a connection request which they must allow:
After accepting, the remote endpoint will show a dialog box containing the details of the connection:

You can now access the remote machine to perform tasks as required.

Use the menu tools to manage your visual experience:

Change the display size of the remote desktop. The available options are:

Best Fit - Automatically adjusts the screen resolution for the best visual experience.
Scaled - Displays the target desktop with the resolution of the admin computer
Original - Displays the target desktop at its own resolution
Full screen - Displays the remote desktop in full screen view
The multi-screen icon appears if the target point endpoint has a multi-monitor setup.


Select 'Switch Screen' to move to the next monitor in the list
Select 'All Monitors' to view all connected screens simultaneously
Select an individual monitor to view it in stand-alone mode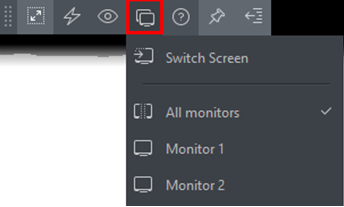 CTRL+ALT+DEL - lock the remote computer, log the current user out, change passwords, view the local task manager or run power options on the machine.
Send WinLock - Locks the managed endpoint. A password will be required to unlock the endpoint.
Send special Keys - If enabled, allows you to send key combination commands such as Ctrl+C, Windows + R and so on.